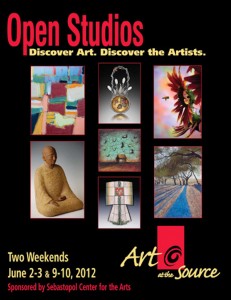 I would like to thank all the wonderful artists who participated in a marketing seminar I was a part of at the Sebastopol Center for the Arts on Saturday March 3, 2012.
70+ artists came to learn how to market their art and their participation in Art at the Source – this coming June 2-3 and 9-10, 2012 open studio weekends in and around Sonoma County.
I had the pleasure of sharing the day with these talented artists talking about their art and providing some thoughts to consider on marketing themselves and listened to some local artists share their experiences on what has made their past participation in Art at the source a successful one. All in all an inspiring day of sharing hopes and dreams with very creative individuals!
If you would like to have a fun weekend or day trip to the Sonoma area and see some wonderful Art at the Source please consider scheduling your visit for the first two weekends of June. I certainly am going to try and make it!
Thank you to Rebecca Love, Art at the Source and the Sebastopol Center for the Arts for asking me to participate in this informative seminar and to everyone who came to learn!
…and the very best to all of you for a successful open studio weekends!