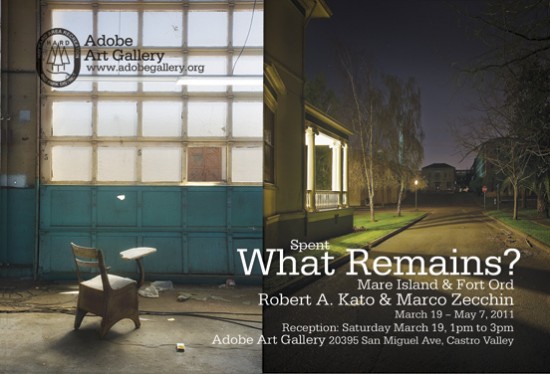 Spent: What Remains?
This 1 day/night field workshop at Mare Island in conjunction with
Adobe Art Gallery and Hayward Recreation Department will be held on
Saturday, April 2, 2011 from 3-10:00 pm
Description:
The Workshop with Robert Kato and Marco Zecchin AT Mare Island. Mare Island is the backdrop of Robert's work and along with Marco will share their viewpoint on this rich landscape but also help participants discover their own unique vision of Mare Island in daylight as well as night. A follow up session to share and critique prints will be held on Saturday, April 30 from 10:00 AM to 12:00 noon at the Adobe Gallery. Robert and Marco will be available to answer all your questions but the workshop is designed for photographers who know their equipment well and want to explore a new landscapes and how to find their voice in it. Each student will be responsible for arranging their own transportation to and from Mare Island.